If anybody is interested, this Tuesday and Wednesday is Hari Profesion Teknikal Negara 2019. IIUM is one of the strategic partners and we have a interesting gimmick to share during the opening of the event which was developed from scratch by our students supervised by our very own Centre of Unmanned Technologies: CUTe supervisors (https://www.facebook.com/pg/cute.iium.edu.my/) involving members from KICT and KOE. If you are interested, please register at https://hptn2019.ticketleap.com/hptn2019/ .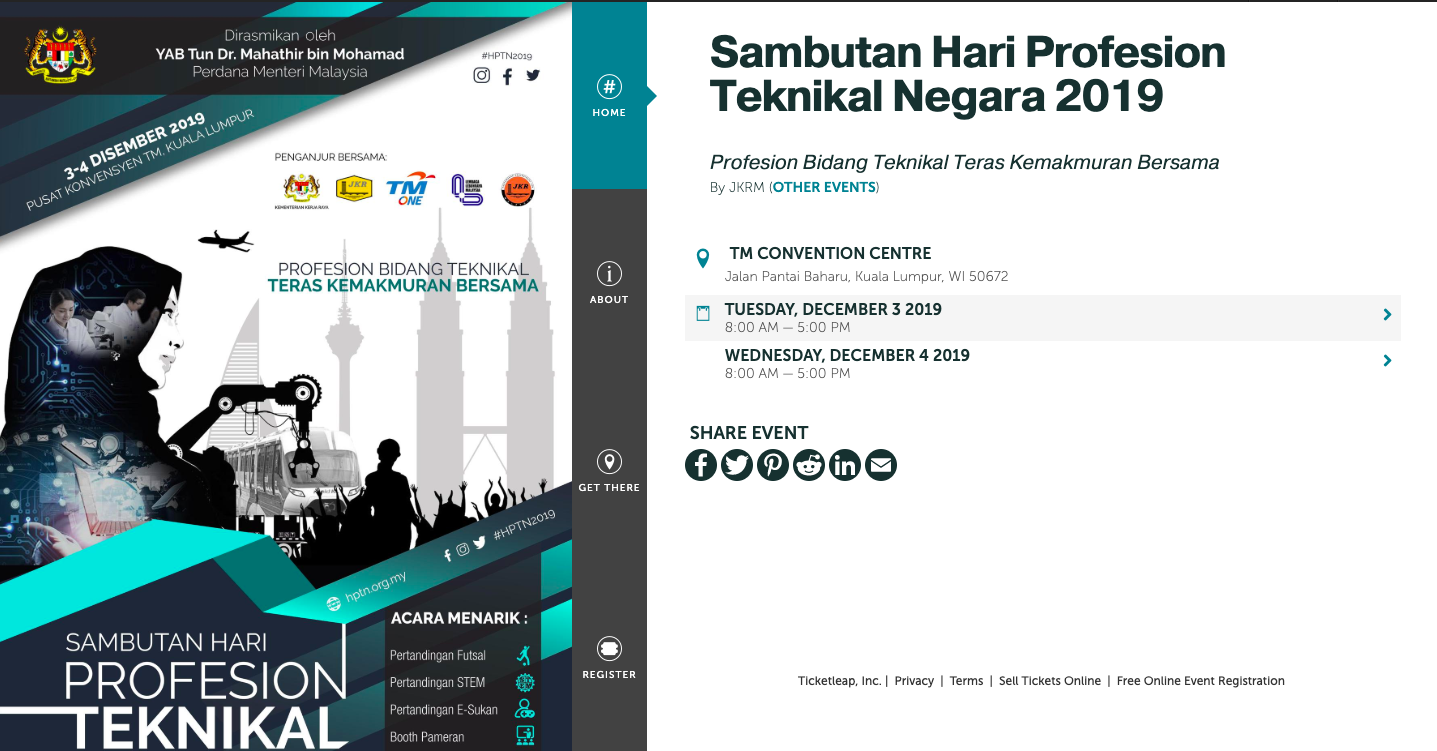 Registration is free, and the event involves a lot of interesting activities for you and your family:
* Pameran Teknikal, Kerjaya dan Akademik
* Pembentangan Teknikal, Akademik dan Selebriti. Antara Selebriti yang dijemput untuk memberi ceramah adalah:
- Dato' Norman bin Abdul Halim (Animasi KRU Studio)
- Nurizzati Athirah binti Muhamad Yusoff (Jurukimpal Dasar Laut Wanita Pertama Negara)
- Datuk Ir. Hj. Wan Nazri bin Wan Aria (Perekabentuk Menara Jam Mekah)
- Dato' Dr. Sheikh Muszaphar Shukor Al Masrie bin Sheikh Mustapha (Angkasawan Negara)
* Pertandingan Futsal & E-Sport
* Pertandingan Science, Technology, Engineering & Mathematics (STEM) antara sekolah rendah, menengah dan institusi pengajian tinggi.
* Tidak ketinggalan, pelbagai sajian untuk pilihan pengunjung turut disediakan yang boleh didapati di food truck station.
A little teaser of our gimik for HPTN 2019
Come and check us out.
https://www.youtube.com/watch?v=OeX6-lCjhKk
For more information please visit
http://hptn.org.my/hptn/daftar_penyertaan.php